While not technically a "cyclone bomb", the storm's cyclone hits the NF with the force
A promise of very gusty winds came true Tuesday afternoon, along with more glass flying off a building in downtown San Francisco, and satellite images of the cyclonic storm hitting the California coastline are quite dramatic.
Today's storm came in with a very windy kick and we can probably expect more tree warnings to come in the next hour or two. As of 4:00 p.m., we have just seen one "obstruction" alert at California and Davis streets in the Financial District, which appears to be glass falling from 50 California Street. NBC Bay Area reported shrapnel glass falling from a high-rise building, and what looks like a puncture in a large pane of glass on the 20th floor.
#LAST NEWS A window on the 20th floor of 50 California was blown out. The gusts of wind here are very strong, sometimes people can hardly move. Sacramento Street was closed on the north side of the building as a precaution. pic.twitter.com/hwl4XLK51N

— Sergio Quintana (@svqjournalist) March 21, 2023
An "obstacle" was also reported at Polk and Post Streets.
Resident Castro Violet Blue tweeted at 3:53 p.m., the wind "just slammed the garbage cans into the cars parked in front of my apartment with such force that the car alarm went off."
Daniel Swain of Weather West just tweeted "Wow" along with a radar image of a cyclone hitting the Bay Area, the eyes of the storm suggest a direct hit on San Francisco.
Jerry Diaz of the Chronicle said it was not technically a "bomb cyclone" because it did not match the exact barometric specifications. But he "saw a sharp drop in pressure, falling below 990 millibars," which "means that he was close to a mark that would have made him a bomb cyclone."
Incredible satellite imagery of one of the strongest March cyclones on record in California, showing the eye of the storm making landfall near San Francisco.

Amazing. pic.twitter.com/nW4cmNmiSL

— Colin McCarthy (@US_Stormwatch) March 21, 2023
Gust measurements will probably come later, but The National Meteorological Service noted the strongest wind gust recorded so far was 78 mph in the Santa Cruz Mountains.
The PG&E power outage map shows multiple power outages around San Francisco and throughout the peninsula, with one significant outage reported as over 5,000 customers in San Francisco's southwest quadrant near Daly City.
Here is one of the photos of a tree on Jackson Street in FiDi: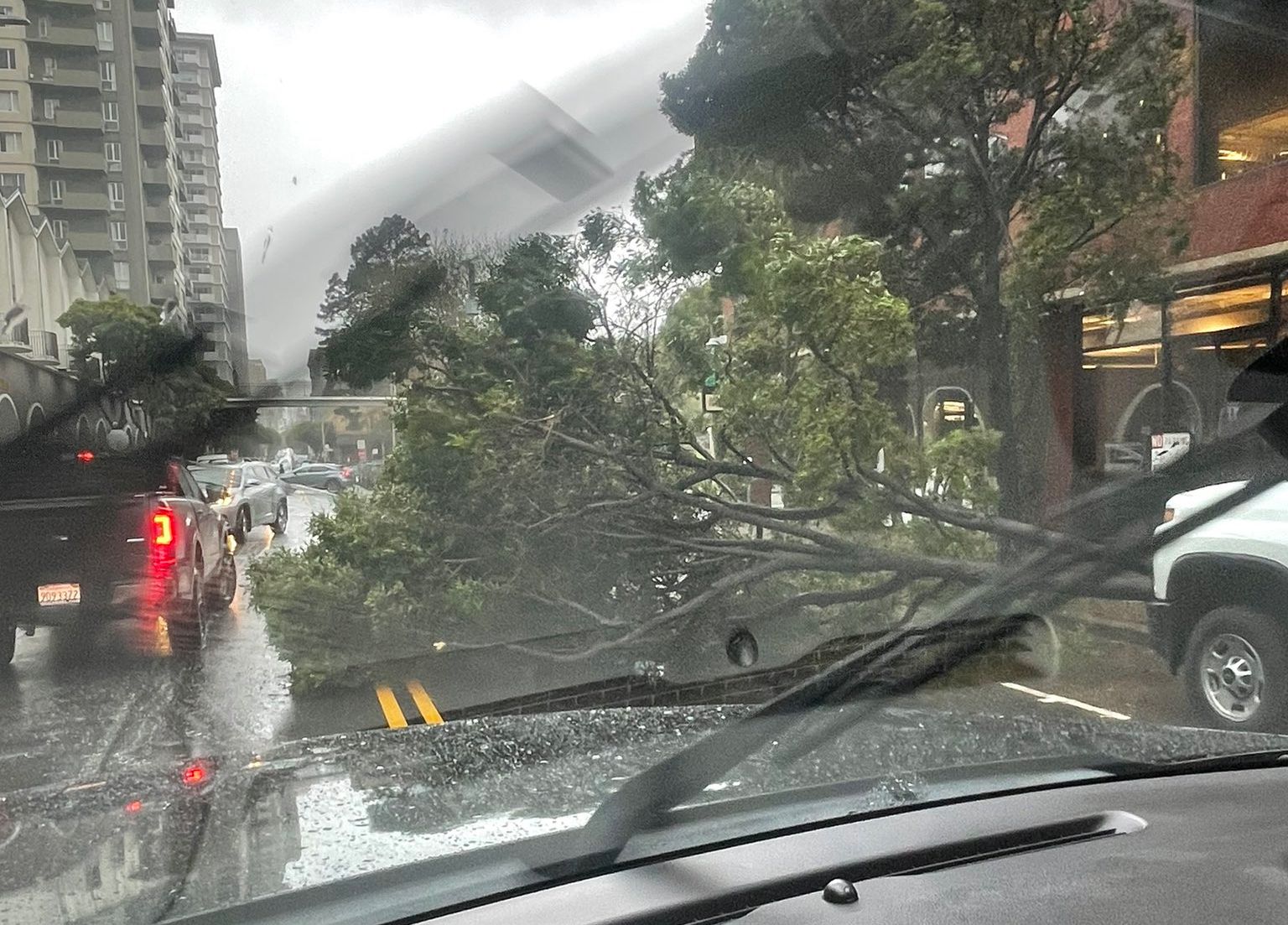 California Press News – Latest News:
Los Angeles Local News || Bay Area Local News || California News || Lifestyle News || National news || Travel News || Health News