The man says he was harassed and robbed after leaving Capital One Bank in west Houston.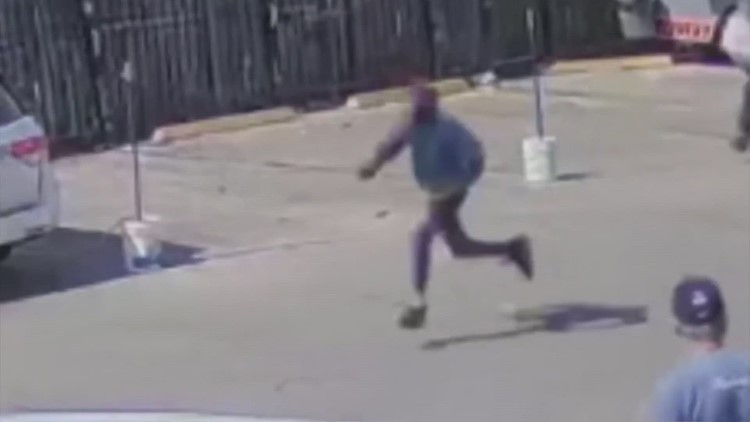 Raed Karadja said he believes he was targeted after thieves saw a thick envelope of cash given to him as he left a bank in west Houston.
HOUSTON. A Houston man who was followed from a bank in West Houston and then robbed in February is asking for help to catch his attackers.
Raed Karaca said he believed he was targeted after thieves saw a thick envelope of cash given to him as he was leaving the nearby Capital One bank. Karaca said he went to the bank to cash the cashier's check he was given after the car was sold. It was for 10,000 dollars.
"What accounts do you need?" the cashier asked Karadja. "20 or hundreds?" I told him I needed $100 bills because the $100 bill is small, I put it in my pocket, nobody sees it."
But instead of receiving 10 $100 bills as he requested, Karaca said the cashier gave him the full $20 and put the money in a yellow envelope.
After leaving the bank, Karaca said he had driven several miles to visit a friend at his auto repair shop. Surveillance video shows what happened next: someone got out of a silver Toyota Corolla and ran up to Caraji's car. The man opened the door and pulled out an envelope. The thief then jumped back into the getaway car.
Karaca tried to stop the driver and opened the door. The driver then crashed the Toyota. Karaca said the driver held a gun to his face.
"I see a gun – two seconds later he put a gun to my head, you know, to my head? Into my eyes I see a gun, I can't do anything," Karaca said.
The passenger with the envelope jumped out of the car and ran away. Karaca and other workers rushed after him, but could not catch up with him. Then Toyota left.
Karaca said police told him the Toyota was a rental car, and the woman who rented it said she didn't know who was using her car. Worst of all, Karaca said the cash would be used to pay his $7,000 property tax bill. Last month, he was only able to pay $500 into his balance.
"Every month they have a $1,000 late tax penalty," Karaca said. "Starting from the first month 9%, the second month 15% and this month 25%."
But still, Karaca said he was grateful to be alive.
"I have five children. I have to be alive for the sake of five children," Karaca said. "I have to work harder."
Matt Dougherty on social networks: Facebook | Twitter | Instagram
Dallas Press News – Latest News:
Dallas Local News || Fort Worth Local News | Texas State News || Crime and Safety News || National news || Business News || Health News