San Angelo Memorial Artist NAACP Buffalo Soldier Jasmine Harris shares her creative process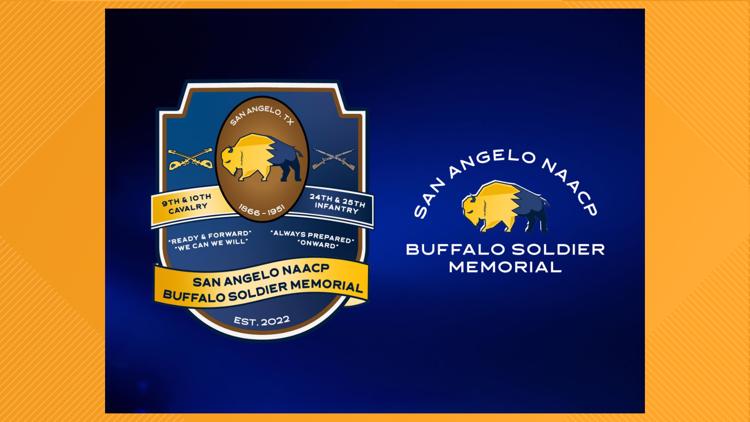 Harris created the memorial's official logo, which is scheduled to open in summer 2023.
SAN ANGELO, Texas. Jasmine Harris is a Hutto, Texas native who moved to San Angelo to attend college in 2017.
After graduating from Angelo State University in 2021, she was offered the position of Director of Digital Marketing at Discover San Angelo and now, in 2023, she is the official logo designer for the San Angelo NAACP Soldier Buffalo Memorial.
"This project itself was pretty nerve-wracking because I thought it was the Buffalo Soldier Memorial, it would be here even though I still don't live in San Angelo," Harris said.
"And so I want it to stay relevant for years to come, and I need to understand its impact…," she said.
The Buffalo Soldier Memorial is due to open to the public in summer 2023, where Harris' design will help show the history of the 9th and 10th Cavalry and 24th and 25th Infantry regiments that fought in West Texas.
Harris was asked to create a logo for the memorial back in 2022, and spent months working through several drafts to come up with the perfect design.
"I found a shape that I liked, it gave the logo as an icon," Harris said. "The colors were blue and yellow and we needed that. We also needed sabers and rifles," she added.
Harris first looked to other buffalo soldier memorials for inspiration, where the images themselves were often indistinct.
Eventually, after weekly meetings with the San Angelo memorial team, she created a design that showcased her unique colorful style, with a detailed blue and yellow buffalo in the center and related information on the outside.
Looking ahead, Harris will be able to see her vision come to life in San Angelo for years to come, and she is honored to be selected for this project.
"For me, not from San Angelo, at first it was kind of insecure that I felt during the creation," said Harris.
"But the team welcomed me like I was from San Angelo and what I created is now part of San Angelo so I feel like a part of me will always be here even if I leave," she added. . .
The design can be found on merchandise including pins, mugs, t-shirts and more.
Soon enough, it will be part of the memorial at San Angelo for years to come.
Dallas Press News – Latest News:
Dallas Local News || Fort Worth Local News | Texas State News || Crime and Safety News || National news || Business News || Health News