Review: United Polaris Lounge SFO
This post may contain affiliate links; please see our advertiser information for more information.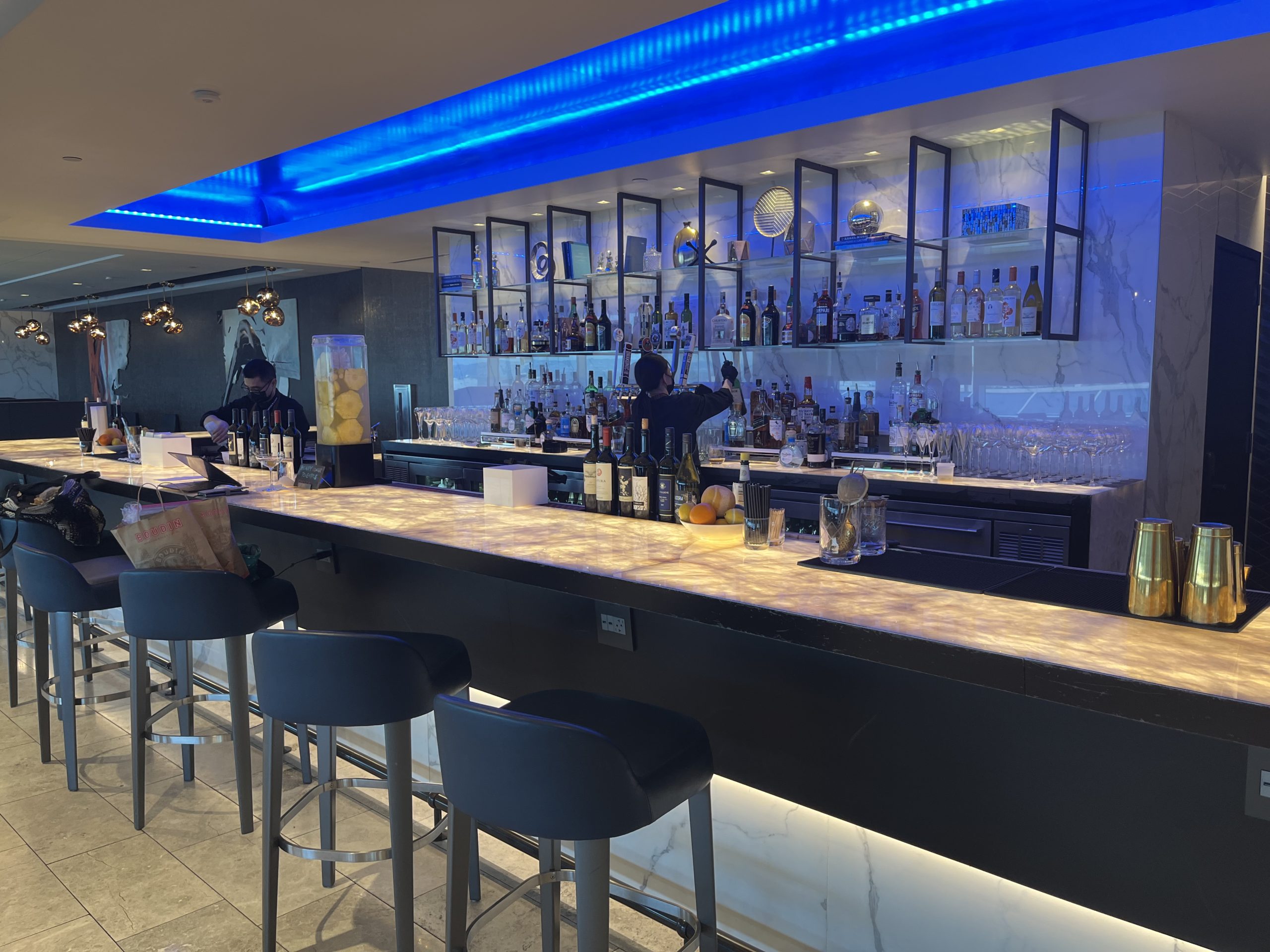 Review United Polaris Lounge SFO
Finally. It took almost five years, but I finally managed to visit the United Polaris Lounge SFO. United only has a handful of these premium business lounges across the country and is vastly superior to the regular United Club. My itinerary included a 3 hour layover so I enjoyed a lot of what Polaris Lounge has to offer. My overall conclusion is that it's hard to do better in SFO.
Access
The exclusivity of the United Polaris Lounge SFO sets it apart from others. You cannot access it with a United Club membership, nor with credit card lounge memberships such as Priority Pass. To access the Polaris showroom, you must have one of the following:
Boarding pass for United Polaris business class travel on a long-haul flight
A boarding pass for travel in any First Class cabin on long-haul Star Alliance flights.
Boarding pass for travel in any business class cabin on long-haul Star Alliance flights
Long haul flights are flights from the US to Asia, Australia/Oceania, Europe, Africa, and select destinations in South America.
If you have a first class boarding pass, you are allowed one guest. You are only allowed access to the Polaris Lounge at the departure airport for long-haul international flights (for example, if you are flying SFO-LAX-AKL, with LAX-AKL in Air New Zealand Business I can not access to the SFO United Polaris Lounge).
United Polaris Lounge SFO is open daily from 6:30 am to 10:30 pm.
You can find the Polaris Lounge immediately to the right after going through security at International Terminal G. If you are transferring from Terminal 3, it is immediately to the left at the top of the escalator when you enter Terminal G.
Space and general impressions
I was impressed with the size of the United Polaris Lounge SFO. The space starts at the terminal level, where there are several of these chair-tables. This is one of the more common seating options in the Polaris lounge and I really like them. The lower level space is not as big as the mezzanine, but it felt quieter. The showers are also on the lower level.
Going up the escalator, you will find the rest of the hall. United Polaris Lounge SFO occupies a long stretch of property overlooking International Terminal G and part of Concourse F.
From end to end you can find a wide variety of seating. You have more private seating tables with power and USB outlets, armchairs, dining tables for two, and more. This is a well designed space. Everything is silver-gray-blue.
The bar is located approximately in the middle of the hall, behind it is a buffet and a restaurant. I found that the other end, the east corner, gets quieter when the lobby gets crowded.
As I mentioned earlier, I like the big chair-tables the best. The only problem is that two of them are in the most "beautiful" places. There were separate pillows. It is clear that they benefit the most. I ended up using one anyway as I wanted to look at the windows.
The views are beautiful almost everywhere if you enjoy watching the planes.
Amenities at United Polaris Lounge SFO
The Polaris Lounge at SFO is an oasis for travelers in a premium cabin. You can enjoy a buffet, sit-down dinner (more on that later), a well-stocked full-service bar, sleep rooms, showers, and a dedicated support team. Like regular United Clubs, it also has its own Wi-Fi.
Things I have used:
Buffet
Drinks from the bar
sitting dinner
WiFi
Support
Bathrooms
Amenities I didn't need:
Quiet suites and showers are located on the lower level. The top level of Polaris Lounge SFO has a range of private bathrooms. They seem to be kept in a very clean condition.
The lady at the information desk confirmed my pickup time. This was very important as I needed to know if I had time to enjoy my pre-flight dinner once I figured out how long the wait would be. The SWISS boarding pass in the United app did not show any exit or boarding information.
I've been working for a while and had no issues with Wi-Fi connectivity and speed. But you are certainly not here for those details. What was the food like?
Food and drink
The United Polaris Lounge SFO has a decent selection of self-service buffet meals. Hot meals on the day I visited included fried pork tenderloin, Korean chicken, Thai curry and basmati rice in addition to any of the previous meals. If desired, you can also enjoy a bowl of chicken tortilla soup.
Across from the hot food was a salad bar, a selection of sandwiches, crackers, cheese, cold cuts, cheese and desserts. This is a significant step up from what the Club offers.
I enjoyed some of the hot dishes which complemented the airplane view perfectly.
Later I went to the bar for a cocktail. The Polaris Lounge Bar is staffed and offers a wide selection of quality spirits. I almost went with a glass of wine but ended up stopping on course and ordered a vodka martini with a lemon drop as originally planned. It was excellent.
If you walk to the far end of the living room, past the support desk, the bathrooms and the corner area, you will find the diner. It has coffee, water, tea, sweets, fruits and pastries.
Polaris Restaurants
One of the best features of the Polaris Lounge is the food in the restaurant. If you are not satisfied with the buffet, you can order a freshly prepared breakfast, lunch or dinner menu. The dining room does not open until 7:30 AM, one hour after the lounge opens.
The sign doesn't joke about having a minimum of 45 minutes for lunch. I wish I had seen the note sooner. Also, you need to consider the expectation. When I asked for dinner, the hostess said that it would be 35-40 minutes(!). The hall started to fill up around 5:00 pm and I missed the perfect window for dinner planning. Luckily I had only enough time to still enjoy Polaris food.
It actually took 40 minutes to get seated and I was at my table around 6:20 pm for a 7:00 pm flight. The dining room service was excellent when the waitress approached me. She seems to have occupied most of the tables in the restaurant, so it took a bit of work to order. The food was delivered within 15 minutes.
I started with a cocktail, tasting the signature United Polaris Star. It was nowhere near as good as a lemon wedge, and nowhere near as good as other citrus ginger recipes I've tried.
Since I was due to fly SWISS business class soon and was planning to eat again, I only ordered a ciopino. It was excellent, the perfect light pre-flight snack.
Other options included a lamb kebab, mushroom risotto, and a signature burger. There are also several snack options for small plates.
I'm glad I was able to sneak into the dining room. I almost missed the opportunity! Once I was done, I had to quickly head to my gate.
United Polaris Lounge SFO Review: Final Thoughts
I have been to all the local carrier lounges at SFO, Centurion and several international carrier lounges at Concourse A. United Polaris Lounge SFO is by far my favorite. It is a large space with great views, friendly staff and a good selection of seating. As evening approached, he became lively, but not as crazy as the Centurion. The choice of food and drinks is solid and dining at the restaurant really adds to the experience. Good thing the only way to access it is to fly in a premium cabin.
The only negatives that I can point out are the limited number of places in the restaurant and the time it can take. If you have a connection of less than two hours, it can be difficult to squeeze that in. The condition of some of the seats was also amazing, with the cushions completely separated. I thought they would replace or repair them.
I look forward to the next time I fly long haul business from San Francisco and enjoy the SFO United Polaris Lounge again.
California Press News – Latest News:
Los Angeles Local News || Bay Area Local News || California News || Lifestyle News || National news || Travel News || Health News