Passion for fashion: Rancho Santa Fe family business, Tolani Collection, introduces a new line of products "Mahila".
Growing up, Alka Tolani learned how to design clothes from her mother.
"My mother is a designer in India," she said. "I grew up in a design house. My mom loved to sew, embroider and make my clothes when I was little. I would watch my mom do it and help her."
Years later, the Rancho Santa Fe resident revived her dressmaking skills and began making things to raise money at Ready Children's Hospital fundraising events.
"That's where it all started," Tolani said of what has now grown into a thriving fashion business.
"It slowly progressed to some of the regular fundraisers saying to me, 'Hey, can we buy some of your clothes for our stores?'
"The company then moved on to selling the product at the California Mall in downtown Los Angeles. Then we moved on to all the professional malls – Dallas, Atlanta, New York, New England, Chicago."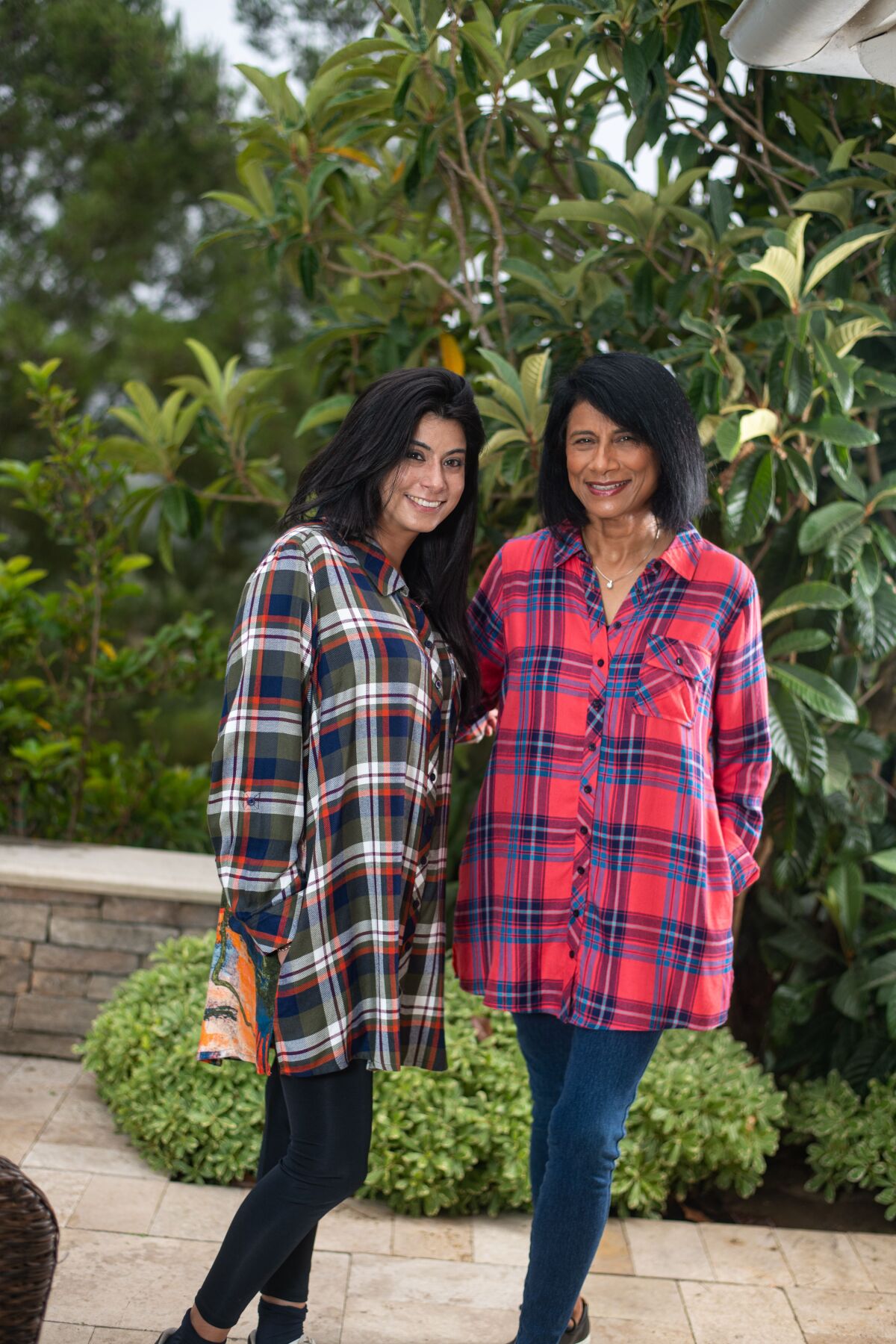 She and her husband Raj Tolani have created their own company, Tolani Collection, which designs and sells women's clothing in retail outlets ranging from boutiques to fashion chains and department stores, and even to the QVC cable TV network and online shopping chain.
Most of the clothes are decorated with floral designs and artistic patterns taken from the couple's travels around the world.
"Design is my passion," says Alka Tolani. "I love happy, flowy, fun, trendy clothes. This is something you could wear day in and day out. You could travel with him. In the evening you can go to a bar. You could wear it to the beach.
Now, the company, which the couple call 'Tolani House', is launching a new line called Mahila, which Alka says means 'girl' in Hindi.
As you might expect, the design of Tolani's newest line came from the ideas of the couple's daughter, Aisha, also a fashion designer.
Mahila's idea is to captivate the imagination of young women.
"Mahila is my daughter's vision of what a younger (woman) should be in terms of what she would be wearing," said Alka Tolani. "We are very excited to introduce the Mahila line."
Tolani Collection assistant designer Brenda Valdez described Mahila's buyer as someone who "isn't afraid to wear a little bit of everything. She's not afraid to wear revealing silhouettes and different fabrics."
Associate designer Briana Gonzalez elaborated: "She is trendy. She reads all fashion magazines and follows fashion blogs. She wants to settle things and have some fun."
According to Alka Tolani, Mahila's products have been featured in Anthropology stores and other department stores, with the brand to be launched in specialty stores in August.
"It's a work in progress, but it looks good," Raj Tolani said of the new line. "The main thing in the (fashion) business is to create a product that appeals to people, and we have feedback."
The introduction of the new line is a further manifestation of an evolution stemming from the lessons Alka Tolani learned from her mother's elbow.
Alka Tolani said that as a wife and mother of three at Rancho Santa Fe, she had no idea she would one day create a successful womenswear business.
The demand generated by these initial fundraising efforts prompted the couple to explore marketing opportunities in the mid-2000s, resulting in Tolani products being sold in high fashion stores in the Los Angeles area.
One day they learned about the incident, which became a turning point. Movie star Jessica Alba was photographed at a Los Angeles Lakers basketball game wearing a Tolani scarf.
"Every magazine had this picture because she looked great in that scarf," said Alka Tolani. "From that one scarf she wore to an LA Lakers game, she wore four more scarves, and then it continued to (other) celebrities. 15 to 20 of them continued to wear the product for (several) years and we launched a ready-to-wear line."
Alka Tolani said that the main attraction of the Tolani collection is that all the pieces produced are unique and have unique prints.
"Each print has its own story of originality," she said. "Celebrities love to wear these special pieces because they are one of a kind and will never be seen again. … It makes a person feel unique and special."
Stepping away from a career in technology, Raj Tolani went into business, though not without initial hesitation: "I thought she was going to lose money. I said, "Don't lose so much money that I have to go back to work."
As it turned out, Raj Tolani returned to work thanks to the success of the company, not its failure. He runs the clothing company business with the help of their son Vijay.
"I just supported her passion," said Raj Tolani. "I never thought it would become a business."
Information about the Tolani collection is available at tolanicollection.com.
California Press News – Latest News:
Los Angeles Local News || Bay Area Local News || California News || Lifestyle News || National news || Travel News || Health News