Medical College Match Day Is Filled With Joy And A Few Surprises

Match day is a special day in the life of medical graduates. For Shalini Weiland and Rhys Vesperman of Florida State University, March 17, 2023 will always have a special meaning.
As a couple, they applied for the next step in their medical education, hoping to land in the same place for their residency—she in psychiatry and he in orthopedic surgery. They already knew that they matched in the respective programs, but did not know where.
Along with family members — onstage at the Ruby Diamond Concert Hall, in the auditorium and online — they revealed that the two approached each other at Vanderbilt University in Nashville, Tennessee. As the applause died down, Vesperman dramatically lowered his microphone stand and said, "But wait; eat more."
He wasn't joking.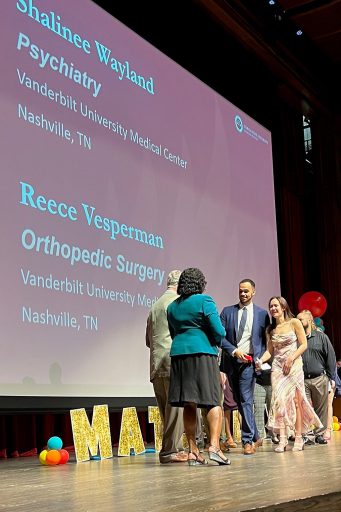 Vesperman knelt down in front of Weiland, opened a small jewelry box, took out an engagement ring, and asked, "Will you marry me?" Weiland, with tears streaming down her face, nodded her head and said yes. As they embraced, the audience applauded loudly and several people rose to their feet.
This wasn't the first offering at the Florida State University College of Medicine, and it's safe to say it won't be the last.
On Match Day, students from 155 medical schools across the country learned about their residency matches at the same time. Matching refers to the process by which students' ranking preference lists overlap with program directors' preference lists, resulting in the selection of students for residency programs.
Some FSU students decided to open their envelopes when Acting Dean Alma Littles told them they could do so at noon; others preferred to wait and open them on stage.
Littles said the graduates began their medical education in 2019, less than a year before the pandemic upended lives and established teaching practices. But they survived. Of this year's graduates, 41% will stay in Florida. Of these, a total of 26% will study at either Orlando Health or the University of Miami/Jackson Health System.
Barry Bedasi approached UM/Jackson Health System in OB/GYN. She lifted her young daughter Jade Wood to make the announcement as her nephew Princeton Wood stood by.
She was a little surprised because it wasn't her first choice, but ended up being "very happy" with the result.
"I'm happy to be closer to home," she said.
Laura Samander is joined by her twin sister Jennifer and their father, Dr. Jacob Samander, a psychiatrist, to uncover her match.
"I am following in his footsteps and am happy to announce that I have coincided with psychiatry at Tufts University," she said, shouting the name of the Boston institution.
Jennifer Rivera and Alexander DeWeird also came up as a couple in Vanderbilt: her in emergency medicine and he in internal medicine. The couple recently got engaged and plan to get married next year.
"We made our rating (preferred) lists together," she later said.
Matchday at the College of Medicine has a theme every year and this year it was called "Game Shows". The video-length ceremony began with Dean Emeritus John P. Fogarty urging Littles to join him at one of the Learning Communities (LCs) to watch afternoon game shows, his supposed new retirement hobby, and enjoy snacks. With Associate Dean Anthony Speights wearing a false mustache Steve Harvey would have been proud of, a Family Feud parody called "LC Feud" resulted in a series of short video clips that intertwined throughout the ceremony as students from each of the six regional campuses took the stage. Other parodies included "Who Wants to Be a Doctor", "Don't Forget the Lyrics" and "The New Match Game".
Apart from the marriage proposal, there were several other surprises that may or may not have been "firsts" on Matchday.
Ron Mackenzie wore a "Mackenzie tartan" kilt and matching bow tie to announce that he matched up in orthopedic surgery with his first choice, the Medical College of Georgia in Augusta, Georgia.
"I really hope to be the first to wear a kilt on Match Day," he said after the ceremony. "Though I don't know for sure.
He was definitely the only one this year.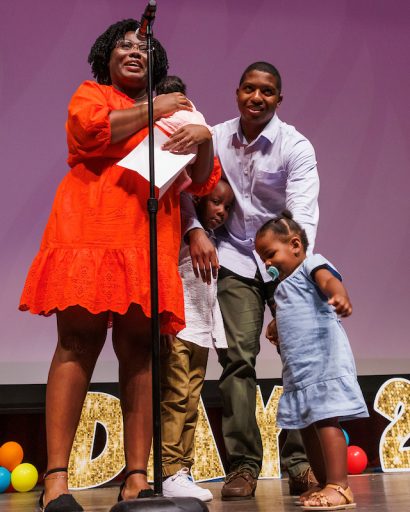 Silena Stewart was joined by her husband Darius Dukes and their three children — Kai, Ari and Ali — as she announced she matched up with psychiatry at the University of Miami/Jackson Health System. Dad hugged five-year-old Kai and 18-month-old Ari, while two-week-old Ali lay calmly in her mother's arms. Ali may be the youngest child ever to perform on the Match Day stage. "She was really good," Stewart said.
Her parents, Barbara and Oral Stewart, were also there and the Miamians are thrilled to have the family around so they have a support system.
"It's a blessing because we couldn't help if they were all over the country," Oral Stewart said. "And we can see the children."
Having a support system has been a constant theme throughout. The students thanked their parents for their support and self-sacrifice, their grandmothers and sisters for boxes of cookies and other treats. Littles thanked her husband, who sat in the front row with the teachers, for being her support system.
Class president Gabriella Seres, in her closing remarks, praised her classmates for the amazing things she had seen in medicine, as well as the faculty and staff. She also encouraged her classmates to thank their support systems. Sehres, who completed general surgery at UC Davis Medical Center, said her two dogs are part of her support system.
"Go home and hug your people," she said, "but also hug your furry babies."
She also told them not to dwell on it if they didn't get their first choice.
"No matter where you matched," Sehres reminded them, "you were chosen."
California Press News – Latest News:
Los Angeles Local News || Bay Area Local News || California News || Lifestyle News || National news || Travel News || Health News