FSU's Jim Moran College keeps No. 19 ranking as it observes National Entrepreneurship Month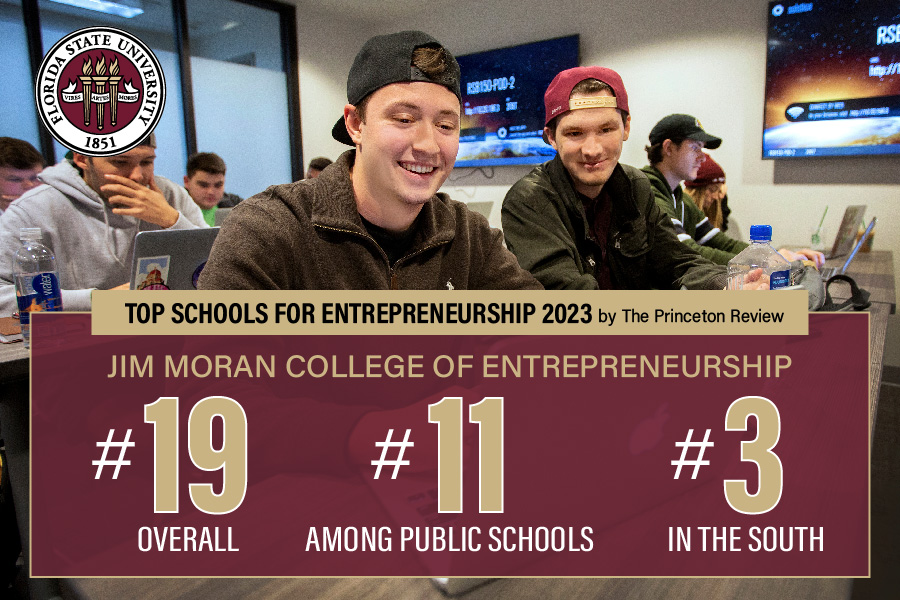 Florida State University's Jim Moran College of Entrepreneurship says it's giving creative and innovative students opportunities to have a "positive impact on the world" — and the college's peers continue to take note.
The college has kept its No. 19 spot in The Princeton Review's latest rankings of the nation's top undergraduate entrepreneurship programs. The college also ranks No. 3 in the South and No. 11 among public schools.
The Princeton Review said it based the rankings for its "Top Schools for Entrepreneurship 2023" on a 2022 survey of administrators at nearly 300 undergraduate and graduate schools that offer entrepreneurship studies.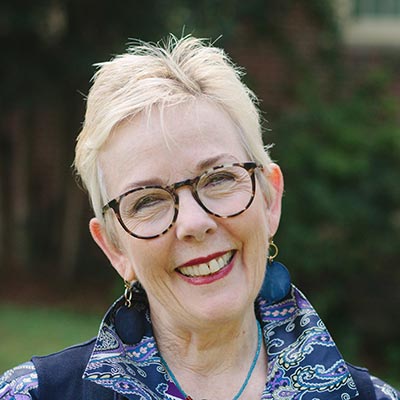 The rankings were released this week as FSU observes National Entrepreneurship Month and as officials reflect on the explosive growth and success of the college, which in 2019 became the nation's first standalone college of entrepreneurship.
"We're thrilled and appreciative that our peers continue to recognize the tireless and inspiring work of our students, faculty, staff and alumni," said Susan Fiorito, dean of the Jim Moran College. "We remind ourselves how far we've come in such a short time, and we strive to continue to work hard to be the very best in the nation."
FSU in 2015 announced the largest gift in its history — $100 million — from Jan Moran and The Jim Moran Foundation to honor the late Jim Moran and create the Jim Moran School of Entrepreneurship.
The school opened in 2017 and welcomed 70 students. Since then, it has moved into a cutting-edge building in downtown Tallahassee and become a nationally ranked college that grants graduate degrees and helps students turn their ideas into brands and businesses.
The college offers undergraduate majors in retail entrepreneurship, commercial entrepreneurship and STEM entrepreneurship, along with 10 entrepreneurship minors. At the graduate level, it offers majors in hospitality entrepreneurship, product development, textiles and apparel entrepreneurship, and social and sustainable enterprises, along with a graduate certificate in entrepreneurship.
"It's been a lot of work by a lot of people and, of course, we are standing on the shoulders of the giants who got us here, starting with Jim and Jan Moran," Fiorito said. "Today, we have partnerships with almost every other college on campus. It doesn't matter what major a student is, what their background is: If they have an idea for a business, our doors are open to them."
Years ago, FSU embarked on an initiative to spark innovation and startup businesses across campus. Since 2017, the university has increased entrepreneurship and innovation course offerings 143% and has raised undergraduate enrollment in those classes 73%.
That effort has continued under President Richard McCullough, who arrived in 2021 as the founder of two businesses and the holder of multiple patents.
"I think we are on the precipice of exploding with innovation and startups university-wide," Fiorito said. "We are at a point now that there are many opportunities, with the emphasis on entrepreneurship across campus. There is no stopping it."
The college trumpets its success with Student Stories, a web page that features students and their businesses, and with events such as "7 Under 30," which the college promotes as a centerpiece of Techstars Startup Week Tallahassee.
Many Jim Moran College students use the Innovation Hub, an FSU facility that invites students from all disciplines to work together to, as the Innovation Hub puts it, "create novel and effective solutions to the vexing, complex and wicked problems of our day."
"Students have always been innovative and creative and passionate about making a positive impact on the world," said Ken Baldauf, founding director of Innovation Hub. "We are enabling them more to put that creativity to work — and providing them with amazing opportunities after graduation."
Before graduation, students get opportunities in events such as the Jim Moran College's InNOLEvation Challenge and the Atlantic Coast Conference InVenture Prize.
Such events help to make entrepreneurship a prominent part of FSU's identity, Fiorito said.
California Press News – Latest News:
Los Angeles Local News || Bay Area Local News || California News || Lifestyle News || National news || Travel News || Health News