East Enders outraged by proposed METRO flyover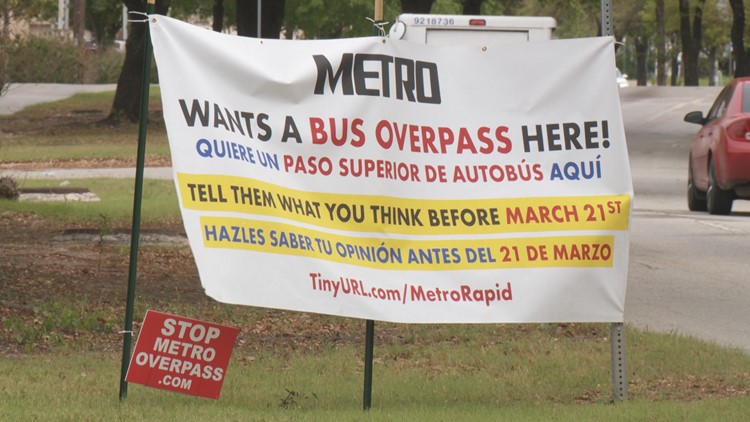 METRO plans to build a bridge just so its buses can pass over the railroad tracks.
HOUSTON. The proposed METRO flyover is frustrating for residents of the East End area.
They are not happy that METRO is planning to build a big bridge just so that the buses can cross the railroad tracks. Residents have said they do not want their green median strips and trees destroyed and believe that this will reduce the area's trafficability.
"We don't want that," said concerned resident Audrey Colomb. "It looks like a very bad idea."
The flyover will extend from McKinney Street to Brady Street. The thing is, trains don't stop buses, but it's all part of a larger project called the METRORapid University Corridor Project.
"It's a bus rapid transit technology, a bus that basically runs on a dedicated lane and takes full advantage of the railroad without the cost," said Tracey Jackson, Metro's deputy head of communications.
The goal is to connect the city from Westchase Park & ​​Ride to the Tidwell Transit Center.
The proposed bridge will only be part of this project, but residents feel that METRO is forgetting a significant part of the community.
"In a way, yes, we feel ignored," said Danielle Laperri, president of the Eastwood Civic Association.
They said that METRO does not take into account the Hispanic population living in the neighborhood and sends out information brochures only in English.
"Sixty-two percent speak Spanish at home," Laperri said. "And having communication only in English is unfair to the area and it won't push the project out of scope."
METRO claims to have mailed out messages in four different languages, but the latest information was only available on the Internet in English.
"If this has been a problem, then we are always looking for opportunities to improve our work with the community," Jackson said. "And so if we need to communicate better in multiple languages, of all the languages ​​that should be in one flyer, rather than one language in a flyer, that's the type of adjustment that METRO is going to make."
Those residents who understood the mailers and traveled by bus are wondering if this "bus lane" is worth it at all.
"I ride the bus all the time," says Colomb. "It is almost never full. I think they will try to use the express bus to see if it is a viable means of transportation. They didn't."
METRO said its board will vote on Thursday to move forward with the project.
Residents against the overpass created an online petition with hundreds of signatures and a bilingual website with more information.
Another petition has been created to change the route or create an underpass.
You can find more information about this project here.
Anaeli Ruiz on social networks: Facebook | Twitter | Instagram
Dallas Press News – Latest News:
Dallas Local News || Fort Worth Local News | Texas State News || Crime and Safety News || National news || Business News || Health News