Dallas artist travels to Fort Myers, creates memorial artwork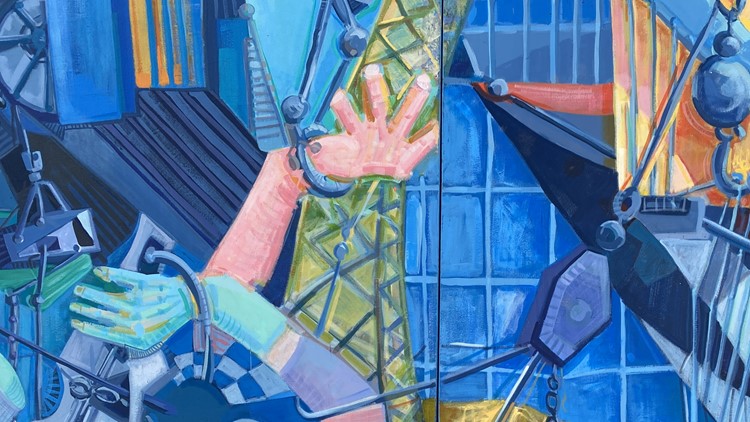 Roberto Marquez built crosses out of wood left over from homes destroyed by Hurricane Ian
DALLAS — A Dallas-based artist is hunkered down in Southwest Florida, creating artwork to honor Hurricane Ian victims. 
This is not Roberto Marquez's first brush with tragedy. The artist traveled to Surfside after the condo collapse, and to Ukraine when war broke out. 
"I feel that I'm not helping too much to anybody… I'm helping me," Marquez said of his work during such painful times. 
"You know, I feel like when I do it, without asking for anything in return, it's like I go back home and, and I'm…I feel good."
Marquez painted a mural near the memorial honoring victims in Downtown Fort Myers. He told WFAA the limbs depicted in the mural represent the victims' struggle, and the instruments depicted represent their talents, hopes and dreams cut short too soon.
"It's difficult," Marquez said.
"We don't want anybody to die this way, you know?"
Marquez also built crosses out of wood left over from homes destroyed by Hurricane Ian.
He built one cross for every photo of potential victims posted on the memorial wall. 
"If I were to describe what is happening here…I will say unity," he said.
Marquez told WFAA he hopes his work inspires his neighbors in Dallas to help the people of Fort Myers too.
Whether that's through art, by volunteering, or donating. 
"You know, and you don't have to be here. You can do it at any time. There are many ways. And then now we have a community that we all hear for each other and that really, really helps. It really does."
Dallas Press News – Latest News:
Dallas Local News || Fort Worth Local News | Texas State News || Crime and Safety News || National news || Business News || Health News