Arson suspect accused of burning house down during SWAT standoff now jailed after being released from hospital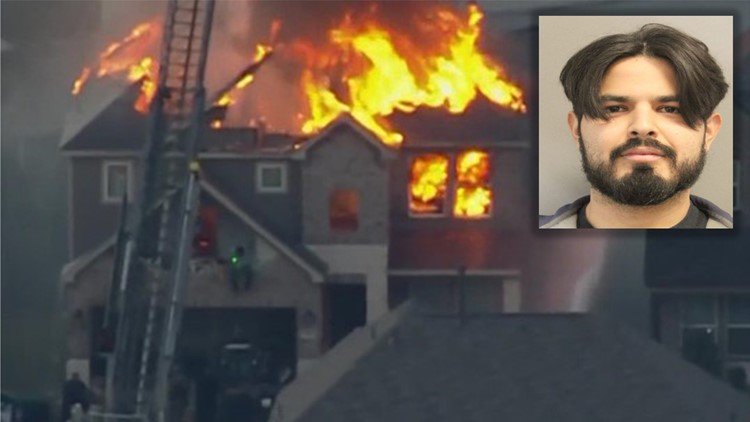 Precinct 4 authorities said he was booked into the Harris County Jail for his felony arrest warrants.
Patino could face additional charges of terroristic threats against police officers and arson from the SWAT scene that happened Thursday. Charges are pending the outcome of the Harris County Fire Marshal's investigation, Precinct 4 said. 
"I see him sitting in the window, just lost," said Kimberly Worthington.
She said when she passes by Patino's home now, she feels sad at what was lost.
"Tears came," Worthington said. "I felt bad. I just felt bad that a house was destroyed, a family is destroyed. I just pray God has mercy on his soul."
SWAT scene ends in flames
According to authorities, Patino's wife thought her estranged husband was out of town on Thursday and she wanted to get some clothes out of the home on Lotus Blossom.
Since Patino was still not in custody, she asked for constable deputies to escort her to the house just in case he was there.
"We knew who he was. We knew how violent he was," Harris County Precinct 4 Constable's Office Captain Vicente Medina said.
When they got there, the constable deputies entered the house to make sure it was clear. That's when they said they spotted Patino in a hallway. Authorities said he ran to a back bedroom where he told them he had a gun.
The constable deputies immediately left the house unharmed and called for reinforcements, officials said.
The standoff between Patino and authorities lasted a few hours before smoke was seen coming from the roof of Patino's home. Authorities said Patino started the fire when a robot sent in by SWAT spotted him in the attic.
"The robot went up to try to open a door that was in the attic. He was seen by the operators on the video and the fire had already started behind him," Thomas Gilliland, with HCSO, said.
It didn't take too long for the smoke to turn into a huge blaze. The fire quickly spread from the top of the home to the first story.
As firefighters worked to contain the fire, SWAT was able to convince Patino to get out of the home. He was seen climbing out of a second-story window and was quickly arrested by authorities when he got to the ground.
Previous incidents
On Tuesday, authorities said Patino, 27, intentionally set his estranged wife's parents' house on fire. According to authorities, his wife, her daughter, and four other family members were inside at the time. Officials said Patino also tried to run his wife over with a car when she escaped the burning house.
Family members said Patino shaved his facial hair in an effort to disguise himself before he set six fires around the house.
Logan Saldana, the brother of Patino's estranged wife, said he tried to put the flames out with a fire extinguisher but was unsuccessful. He said the family escaped through the back door.
"There is extensive damage to my parents' home. I feel responsible for inviting this man into my life," the wife posted.
Patino got away after setting the fires, officials said. He's charged with arson of a habitation, violation of a protective order and aggravated assault in connection with the incident, according to court records.
"Pablo Patino will be booked into the Harris County Jail for his felony arrest warrants after he is released from the hospital and charged with terroristic threats against police officers," Constable Mark Herman said. "Additional charges of arson are pending the outcome of the Harris County Fire Marshal's investigation."
In another previous incident, Precinct 4 officials said Patino was arrested on the day after Christmas for assault. He was released on bond the same day.
Resources for victims of domestic or family violence
Domestic and family violence cases in the Houston area have increased at an alarming rate. Victims often suffer in silence because they feel scared, helpless or ashamed. 
If you or someone you know is a victim of domestic violence, here are some discreet ways to reach out for help.
Dallas Press News – Latest News:
Dallas Local News || Fort Worth Local News | Texas State News || Crime and Safety News || National news || Business News || Health News