Angelo State Ram Band heading to Rome for New Years Eve performance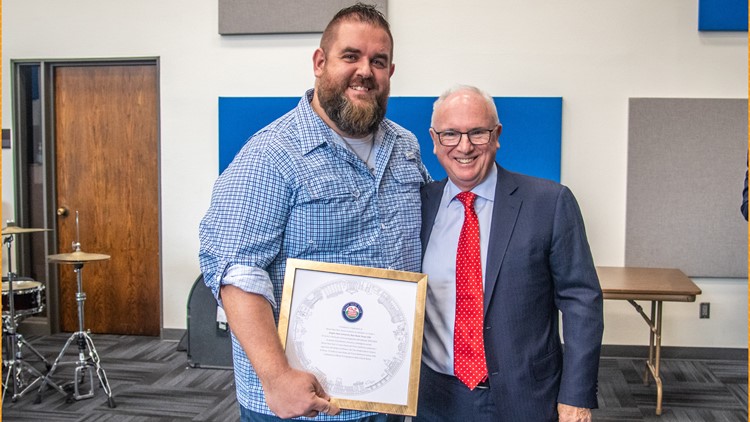 "They were such a great crowd, they were such good performers, it was easy."
SAN ANGELO, Texas. The ASU Ram Band will ring in New Year's Italian style.
The Angelo State University Ram Band has been officially invited to participate and perform in the 2024 Rome New Year Parade and Festival in Rome, Italy on January 1, 2024.
Bob Bone, co-founder and chairman of Rome New Year, officially made the announcement Monday morning at ASU's Carr Fine Arts Building.
"Well, the purpose of all of this is for it to be life-changing. It's something that students will never, ever forget," Bone said. "ASU was chosen for Rome simply because they came to London four or five years ago to perform at our event at the London New Year Parade and Festival. for a reason."
The Roman New Year's Parade is a European-style parade that runs down Via della Conciliazione, includes some of the city's most prized neighborhoods such as Piazza del Popolo and the Spanish Steps, and culminates in St. Peter's Square. The 2024 parade will feature thousands of performers from around the world and an expected street audience of 250,000. It will also be televised and broadcast live around the world.
This will be the second international performance by the ASU Ram Band, who headlined the 2019 London New Year's Day Parade in London, England.
"I am once again honored to represent Angelo State on the international stage," said Dr. Jonathan Alvis, ASU Group Director. "This invitation is a true testament to the hard work and dedication of our students over the past five years. We are thrilled to give our students the opportunity to visit this historic city and perform in front of hundreds of thousands of people."
The Roman New Year's Parade is also the only such event officially recognized and organized by the Comune di Roma, which governs the municipal territory of the city of Rome as the capital of Italy.
Dallas Press News – Latest News:
Dallas Local News || Fort Worth Local News | Texas State News || Crime and Safety News || National news || Business News || Health News